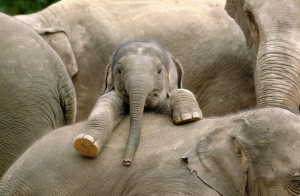 Today I finished my composition 'Elephant & Owl chick.' It is a fun piece for three pianists at one piano, or fifteen pianists at five pianos (and everything in between!). It was commissioned by the Piano Festival of Groningen, or 'het Groninger Pianofestival' that will take place on Friday and Saturday of April 19/20 2019.
It is easy and can be played after about one or two years of piano lessons, although you must be able to do glissandi, tremolos and scales. Especially the owl chick is pure slapstick!
The elephant starts with a tangolike motive that is repeated over and over, but every time with different accompaniments. It has to be practised (and performed) with a group of fifteen children in one day!
You can hear a digital version below:

Digital version 'Elephant and Owl chick'
As an example I put two pages below: